Hello Everyone,
We are very new to this forum venue and new to being scamp owners. We just took delivery of our new 13' scamp with the bells and whistles we wanted for us but made it as light weight as we could. The Deluxe 13' model has wooden cabinets and wood moldings, our has the fiberglass cabinets, which is alright with us, but has the roof fantastic fan, air conditioning, awning, battery charger, refer with 3 way power, shower, YES, and toilet, wife happy on that. We are tight for sure but we will do fine.
A little history here about us, I also bought a 40' trailways bus and have been converting it to a motor home for (13 Years) now, no where done but still a work in progress. We bought this with the idea to travel around the country when we retired, well the gov't. has allowed the fuel suppliers to put that dream to rest. I am still working on the bus but to use on short trips and just to use it before I am too old, I am 69 as of May 5th. I plan to give it to my grandchild to use as a band bus one day, if they can afford to run it. Enough on that. Here is photo of our bus the day we bought it.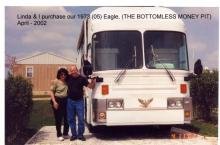 Well now things have changed, I lost a few friends this past year that were just 4-6 years older than I. So I decided to stop working on the bus and I have a friend in Pullman, Wa. who recommended getting a SCAMP as I told him I wanted to go to Alaska as the first thing on my bucket list. Making a long story short, I found that getting a used one was harder than getting a new one, we choose to get a new one and have no problems, or thought we wouldn't anyhow.
We are totally psyched to go to Alaska, June 19, 2014 and stay there until the last week of August, then I am told it is advisible to get out of Dodge at that time as the weather changes real fast. So we will, but now we have a new Scamp Camper and love it for the size that will allow us to travel more economically. The bus would get 5 MPG if I was able to get "R" done so we can use it. We will be pulling our new Scamp with a Jeep Cherokee as we go to Alaska, plan to get another vehicle later on. To me now time is of the essence to enjoy our selves while we have the health to do that, you kow what I mean.
Well not to bore you too much more, I come up with a few ideas as well that I hope will help others as well. The first thing we discovered as it was hot here in Piedmont, SC the day we received our Scamp. We of coarse just had to test out the new airconditioner. Well it worked great, then going outside to see what our camper is about I discovered the condensation running down the side of the Scamp, going all over the tire and wheel on the left side. I did not like that at all, I had serious visions of rust starting to form on the wheels, brakes etc. in short time. So I got this idea, I went to Camping World, and for $26 I bought a 10' roll of rain gutter intended to put around windows and doors of RV's. I mounted this 10' piece of white gutter on the Scamp roof in a "U" shape around my air conditoner and left the open ends of the gutter going toward the back of the Scamp and now when the air conditioner runs, the water goes to the back of the Scamp and it no longer runs down the side of the trailer.
Here is photos of what I did if you are interested: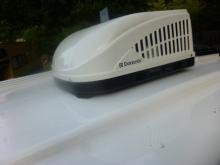 Photo with gutter guard from camping world installed on roof, "U" shaped around the permiter of the air conditioner.
I am really glad to be a member of this BB Forum, I plan to read every post and plan to submit any ideas I may come up with as well. I look forward to going to Scamp Rallies as much as we do going to bus rallies.
Hope this little idea is useful to some that use their air conditioner all the time, and want to prevent water from getting into the brakes, wheels, and also the exhaust vent for the furnace I beleive.
Have another suggestion coming right up.
Garylee