One of the notorious leak points in Scamps especially older model used Scamps is the rivets. This is usually due to deterioration or missing snap caps. Snap caps are the round white plastic caps that are all over your Scamp. (Hopefully) If they aren't all over you need to pay special attention to this post. It is a good idea on an older model used Scamp to completely redo the snap caps/rivets. On my first Scamp a 1981 13 I drilled out all the rivets and replaced with SS bolts, nuts and new snap caps. I have always gotten my snap caps from Pro-Dec, but Scamp Parts sells packages of them for the trailers as well. For a 13 Scamp I order 45 large 12/12 washers and caps and 20 small 8/8 washers and caps. You can also order them in most any color including chromed. I get the off-white which seems to match the Scamps especially older Scamps that have some fading. You will also need a roll of Colormetrics Gray Putty Tape / Butyl Tape 1/8" x 3/4" x 30' (Single Roll)
but any RV'r worth his or her salt always has butyl tape on hand. It is what you use to reseal vents, etc. and is very handy stuff.
First step is to drill out the rivet
Next put a snap cap washer on the rivet or screw, these were the screws located under the front window.
The next step is one that a lot of folks don't know about, but will make sure your rivets aren't going to leak for many years. Take a small ball of butyl tape and wrap it around the screw or rivet before reinserting it into the hole. Now when you sink the screw or pop the rivet, the butyl will completely seal the hole for many years to come.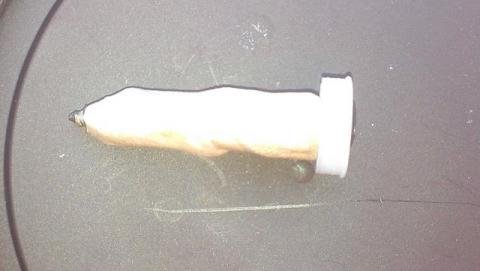 When you sink it or pop the rivet the putty will look like this
Carefully remove the excess butyl and snap the cap on
If you follow the procedures above you will have a very tight Scamp for years to come! Next installment I'll post completing all the rivets. FYI, this new to me 96 Scamp 13 had not one remaining Snap Cap. Our Monsoon season starts in AZ in July so we are making sure this is all completed in the next week.