Worked on a customized rear cargo rack today. This can have a number of uses including transporting gear, keeping stuff off the ground while camping or possible perch for a small generator. Maybe even a bike with proper modification (attachment of bike rail). Can be easily removed and even transferred to an unhitched tow vehicle if needed after setting up camp.
Started with an ATV rack from Harbor Freight: www.harborfreight.com/300-lb-capacity-atv-cargo-carrier-69858.html
This rack is advantageous for several reasons: it is smaller and lighter than most rear racks, has a rise built in for more clearance and is designed for a 2" receiver. To get the rack even higher and as close to the spare tire as possible the rack was welded with a tighter 90 degree rise as you can see in the photo.
Since the tail lights could be blocked with a loaded rack and we didn't really want to add a second set higher on the trailer we decided to install a set of LED lights on the rack itself. We used a trailer light kit so there is a convenient plug connection at the rear bumper of the Scamp. This was a photo while testing the lights. The wiring was eventually run within the rack tubing for a very clean installation and to protect the wiring, but required some effort to drill and fish wires.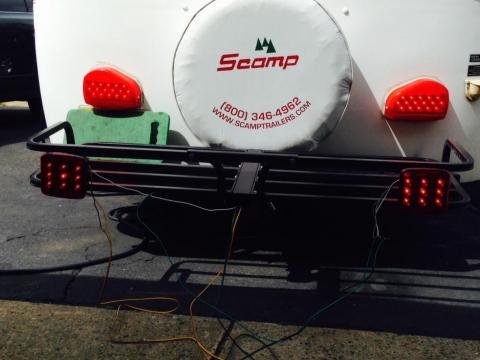 The trailer side plug was wired into the Scamp lighting system by routing it up through the floor into the street side rear dinette seat area. The wiring harness can be found on the back wall just below the tail light behind the headliner material and insulation. Please note that the "traditional" trailer wiring colors are all there, but Scamp does not follow them. The only one that is the same is the ground. This is confusing and took some cross-referencing with the wiring diagram and vehicle electrical plug page from the owner's manual, but I figured it out. Here is how it's done:
GROUND: WHITE SCAMP HARNESS ==> WHITE ON RACK LIGHT HARNESS
RT TURN/BRAKE: BROWN SCAMP HARNESS ==> GREEN ON RACK LIGHT HARNESS
LEFT TURN/BRAKE: RED SCAMP HARNESS ==> YELLOW ON RACK LIGHT HARNESS
TAIL LIGHTS: GREEN SCAMP HARNESS ==> BROWN ON RACK LIGHT HARNESS
Note that the yellow from the Scamp harness is for backup lights and is wired out to the stock tail lights, but they are not used with our retrofitted LED lights.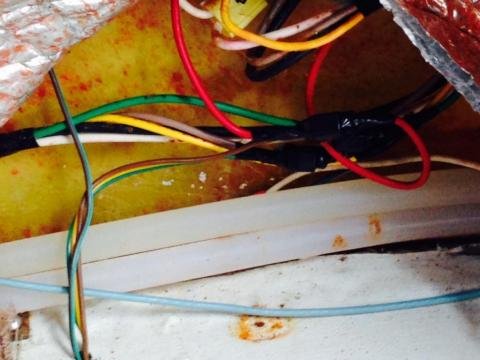 Used tap splice connectors to avoid cutting and wire nutting the connections. These seem to have a propensity to pop open so they were taped. Scamp appears to use these all around the trailer on the 12V system.
Note the rack has a 300 lb. capacity, but it will certainly not be used for that much weight. I know many people bring up concerns of reducing tongue weight with a heavy load on the rear. This is not an issue for us with dual propane tanks and group 27 battery on the tongue, as well as, the front bathroom.
Hope this helps if someone decides to take it on.
Here is a shot with the same rack being used on a Casita for a Honda EU2000 generator in conjunction with the LowPro Lockdown system available from PerfectCasita. www.perfectcasita.com/ho20semosy.html (Photo credit: Jim Britton, The Perfect Casita / Orbital Machine Works)
I suppose part of the security strategy better also be a locking hitch pin!
Yet another way to use the rack with a Rubbermaid Action Packer courtesy of John Schroeder who provided one of the original inspirations for this mod. Note that John had an earlier version of this rack that appears to have had welded gussets on the rise. The newer rack is made slightly different with a bolted connection. Although it doesn't really matter if you are cutting it off to reweld it as we did.
http://justfinding.blogspot.com/2013/03/put-it-in-trunk.html?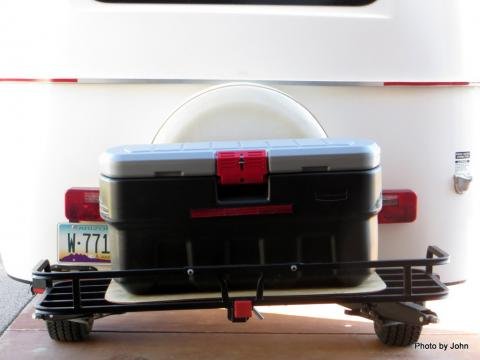 Photo credit: John Schroeder, Just Finding Our Way