One of the biggest issues I've always had with the Egg Trailers is the hanging closet. For our family, we don't need to hang clothes to go camping, we need storage space. So on my 1981 Scamp and now on my 2005 Escape I have added shelving to the closets to add storage space. I owe this closet shelf idea to Joe Z who did a similar project to his Casita using PVC pipe and fittings which doesn't require anything to have to be screwed in and can be easily removed later if needed.
This is our closet in the Escape, in the Scamp it was floor to ceiling, but a similar concept:
Here are some pictures of how I built the base frame:
Here is the frame completed and the shelves installed: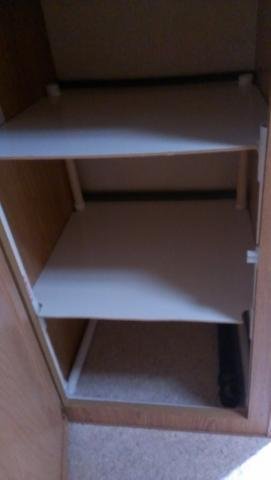 I found a 1/4" Melamine board that I cut the 2-shelves from which just lay on the PVC frame. I put a 3/4 self taping pipe insulation at the back edge of each shelf to protect any finish and snug up the fit. I will add the finish pictures with the shelves tomorrow.
Total cost for the closet PVC frame and shelves, under $20
Time commitment for the project. 1 hour.