Time to pick up the 13ft Scamp and take a trip!! Hope y'all like reading this kind of stuff. I just sold my small Starcraft pop-up camper for a great price. It was 10 years old and in excellent condition. A piece of me hated to part with it. I loaded all the gear into the back of my Ford F150. My plan was to pick up the Scamp on Sep 12, but I misunderstood when I ordered that it would be the week of Sep 12, not that actual day. So, I had to cut short a few things to get to my final destination. I wanted to stay in the U.P. Michigan a couple more days. Read on.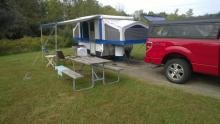 Starcraft Camper pic taken Sep 2015. Cesar Creek State Park - Ohio
Sep 13 - Leave Toledo OH for Minnesota! I may stay in Madison WI or if not too tired go up to Eau Claire for the first night in a Super 8 hotel. This will be a long drive day.
Sep 14 - Arrive at Pine River MN - stay at Rodeway Inn hotel. Should have time to rest up and perhaps explore around a bit.
Sep 15, 16 - Backus MN, Evelands! Pick up Scamp. I will take the trailer to Ruttgers Campground (recommended by Scamp) for the first two nights to check all systems out for operation, leaks, etc. This campground has water/electric and a dump station. If I find issues on Thursday, I can take it back to factory on Friday for adjustments. I need to load up the camper and figure out where to store things. Ruttgers website says there is a store near them that has quite a few RV supplies.
Sep 17, 18 - A short drive North to Stoney Point campground in the Chippewa National Forest on Leech Lake (a very large lake). This is one of the larger NF campgrounds that has electric at each sight and a dump station. $26 per night. I have an inflatable kayak that I have not used this year. Hopefully I will get to use it.
Sep 19, 20 - East to U.P. Michigan - a medium driving day to Presque Isle primitive campground. I LOVE primitive campgrounds :) They do have hand pump water so I would need to manual fill the water tank if needed, vault toilets. This is a Michigan State Park campground right on Lake Superior in the Porcupine Mountain area - $15 per night. Besides Lake Superior, this is the area of the famous Lake of the Clouds which I plan to visit. There is also a larger State Park campground about 25 miles North of the one I am at with electric, but I want to enjoy the primitive campground for this trip.
Sep 21 - East and South to Hartwick Pines Michigan State Park. This will be a long driving day. Hartwick Pines is a very nice campground with electric and a dump station. I stayed here 6 years ago on a previous U.P. Michigan trip. I think this is $26 per night.
Sep 22 - South to Kenton OH and the Hardin County Fairgrounds. A fairly long driving day. The fairgrounds are open to camping nearly all year long and have electric and water for $15 a night. Great overnight place to stop.
Sep 23, 24, 25 - South to Cesar Creek Ohio State Park - The annual Ohio Fiberglass Camper Rally!! I went to this rally last year in my popup to see all the fiberglass campers - Scamp, Casita and Oliver, Saturday is the camper open house where you get to walk around and talk with owners and tour their camper. This is where I got to view all the different models to see what I liked/disliked. So many great and friendly people. I think I left there more undecided since there were things about each manufacturer that I liked. I made the reservations for this back in March hoping everything would come together with my new Scamp - and so far so good. I think this was $28 per night with electric and a dump station.
Sep 25 - Home to Toledo OH? Booooo! I may stay an extra night at Cesar Creek.... don't tell anyone.