There is not a real reading light in the bed area of our Scamp 16 even though I put in a high output LED in the existing light. I found these Bosch 12v marine chart lights and made a removeable bracket from aluminum angle. The bracket clamps to the window track and plugs into the existing light with no permanent modifications. It can be moved to any window.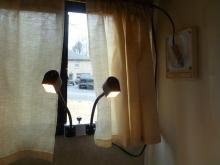 Also, when it rains a lot, there is no place to hang wet jackets, clothes, etc. I made this removeable clothes rod for the shower that attaches to brackets that slide behind the shower walls but will easily hold 20 lbs. of wet clothes.
The cutting board sink cover adds some food prep area to a very tiny kitchen, while the outside step helps getting in or out.