On my recent trip I installed a 100w Renogy monocrystalline solar panel on the roof of my Scamp. Here is what I did.
First I thought I would want to be able to angle the panel so I installed a Windy Nation adjustable mount using four stainless steel bolts on the roof using butyl tape and Dicor lap sealant. I have not had any issue with leakage. And as it turned out it's very difficult to angle without a ladder so I just use it as a solid mount.
I then bravely drilled a bigger hole in the roof to run my cables to the charge controller. Then of course I mounted the panel.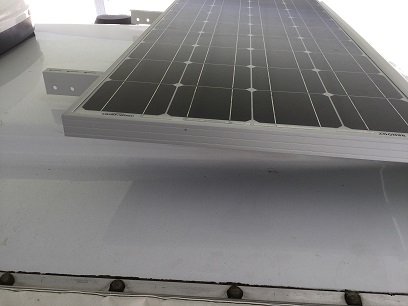 I mounted the charge controller on the face of the front cabinet just below where my wires came through and ran them through the cabinet into the controller then down the side wall in a wire channel velcro'd to the rat fur.
I fabricated a wind deflector out of a piece of vinyl roofing material I found at Home Depot for $5.
The deflector is held on to the panel with four sheet metal self tapping screws and stuck to the roof with butyl tape. As you can see it weathered the trip with no problem.
After we got back we had to go up to Massachusetts for several months and having no place to park the Scamp, I left it under my carport. Even in that shaded spot after three months away, the battery maintained a charge from the solar panel!
All things being considered the addition of the solar panel was an excellent modification to the Scamp and I would recommend it to anyone considering boondocking. We never went past 10am that the battery wasn't up to full charge.
Art