The following is information initially intended for those going to Alaska but I have added more suggestions for those going to get their camper from Scamp Mfg. that can also be consided for all traveling. I would suggest you copy this article, print it out and yellow hi-lite the items that may be of (significance to you) and then just forget the ones you feel are not a necessity for you new $15,000 purchase. Again also my intentions if for us not to have "One of the best Campers built" but to be owning THE BEST CAMPER BUILT!. Anyone thinking differently has no idea who or what I am about. To those just ignore me with the swipe of your mouse. Garylee
I can tell that all the warnings I offered about not traveling with your scamp to Alaska will go unheard and I appreciate that as no one could talk us out of our long trip. so I will interject a few suggestions for you to consider before you go in preparation to one long trip that you will never forget.
I have no idea what your first name is but please read some of the information I offered on our trip we took to Alaska last year. A suggestion I think you should consider if you plan over 9 days of traveling through Canada one way at 350 - 325 miles per day is:
1) Install the widest mud flaps you can find, (Orielly's) were good for us, but put them on all 4 wheels as the roads are going to be rocky, dusty and expect your temperment to change with the road conditions. The larger mud flaps did wonderful job in protecting the front of our Scamp. I included all the problems we had on our trip, do not be in any hurry to get to point (B) every day. Be prepared for high cost of fuel, food, camping, museums tours, and have about $20,000 to spend to do things other than just camping. Tours are expensive, boat trips are expensive but great to do, be prepared to have some bare essentials only at some campgrounds Example = (Hardly no Wifi at any of them), take out special calling programs for your cell phone. Call your phone company, explain what you are doing, for about how long. The cost of being able to call back to stateside while you are In Canada it will cost you $.95 cents per minute. 9 days going through Canada, and 18 days for round trip is a long time to be out of touch with family.
2) Be sure the wheel bearings on your campers are properly seated and greased, your trip will be about 12, 000 miles there bouts, try to make them all safe and pleasureful to travel..
3) Be sure your tow vehicle is not overtaxed with age like ours , we had 257,000 miles on it at beginning of trip. That is not good but all we had to use and still am. I should have atleast installed a new timming chain but did not think of it. It was overdue by 150,000 miles. Be sure to have your vehicle thoroughly inspected by a professional mechanic. We lost our brakes also because of GRAVEL ROADS as the dust from them was like concrete dust. They ate up my brake pads, and even ruined the brake cylinders and the entire brake system. The cost of Brake Job in Alaska = $1,000 on all four wheels and perhaps a loss of time as there is not many parts stores (Napa) that have every part you need for your tow vehicle!!!
3a) Pack carefully, for our Alaska Trip we were way overloaded to say the least. Make a list of essentials you will need and what ever you forget you will pay 3 times the lower 48 cost to replace. Do not purchase and carry cases of drinks with you in your Scamp, this adds (lots of extra towing weight that also hurt us). No matter what you try to save on drinking on your trip sooner or later you will have to pay way more for your beverages than in the lower 48, and that is one reason for the suggested $20,000 allowance to travel is suggested. Keep your Scamp as light in weight as possible. Those hills are brutal for overweight trailers.
4) Some of the many hill grades will be over 10 deg. for about 5-7 miles in Canada and Alaska, some roads are nothing but gravel to travel on, you will see. I know how pumped you are at thinking of your Alaskan trip as we were too. But man were we glad to get back home. We spent $15,000 for fuel, food, camping and some, some museums. That was all we had allowed to travel with and we had to economize and bypass some tours we wish we had done, (Boat trips through the glaciers etc,) and you will be amazed at the cost of eating out (16" Pizza with two toppings only and it cost $25.00) or just going to the grocery store to get supplies. I am just warning you as a Scamp Friend here so please do not be offended by my suggestions or the sticker shock of how much money to allow for this trip. Your money will go, very, very fast.
5) Be sure you have an excellent towing insurance, I recommend Tripple AAA. I am not sure what is available in Canada or if Tripple AAA is used there but it is in Alaska and the lower 48 and we used it three times. Money matters were lessened with this insurance.
6) Purchase a good portable battery charger / air pump combined. The air pump can maintain your trailer pressure of 50 PSI every cool morning before traveling for the day and you will travel a lot. be sure to check this pressure every morning every day.
6a) Be sure to purchase a camper trailer tounge protection package to deter theft of your beautiful camper. This can be purchased at Walmart and consists of: (Towing Ball locking devise that connects to your towing hitch on the tongue of camper and locks the tongue to prevent theft of quick hook up and towing of your camper. Also in the same kit will be a lock that just fits and also locks your Scamp camper tongue when on the road being towed. Install this extra lock on your trailer when you are unkooked for any length of time also, You will not be camping in camp grounds all the time either. Keep your Scamp Secure. These Scamps are probably the most valuable in the bush of Canada and Alaska and could never be found if stolen. In this same kit will also be a lockable draw pin that connects your trailer to your tow vehicle. NOTE: if you purchase this trailer locking devise is in a kit form, (About $45) you will get one key that will fit all the above protection devises and make it easier for you to unlock them when needed to move on to your next adventure.
7) Be sure all tires on tow vehicle and trailer are (Balanced). Have a good full size spare for your tow vehicle, there is not many repair stations in Alaska, or Canada. It is maybe 75 - 100 miles between towns at times.
8) Do not let your fuel gage get below 1/2 full or 1/2 empty at any time in Canada or Alaska as gas stations are closed a lot, out of business and the more distance between gas stations the fuel cost can and will be very costly. In the Yukon we paid up to $7.96 per gallon of regular gas. Remember, they sell their fuel in Liters.
9) In Canada use your special trip debit card as often as you can in place of cash. Your crerdit card co. will automatically discount the difference between Canadian and USA currency. NOTE: I advise you to set up a special account for your trip only to use as debit card for this trip incase of fraud or identity theft, double charging for groceries and fuel happens. We were overcharged for something we did not get, by $100 at times for fuel etc. and had no record of it in our account until the next day!! They have a horrible way of using a charge / Debit card in Canada. Just a word of advise here so you will not have the unexpected happen such as we did as well as did our traveling companions experienced also. It is a bummer to get straightend out on the road while in Canada, that is the reason for having a special cell phone set up for long conversations to take care of business. This will happen to you, they know you are on the road and vulnerable as you want to travel long distances each day. They also know you will never see them again!!! Keep all fuel and grocery receipts organized and view each day on your cell phone any charges. I don't want you to get shocked, as you will.
10) Block off all the windows in your Scamp to allow you to go to sleep at night at regular times as you did at home, midnight etc. or there bouts. Remember, there is 21 hrs of dayligt in Alaska, at 11 pm it is as bright as if it were 11 am.
11) Think of installing a vented cover (we got our from Camping World) over your fantastic fan and paint the inside of it Black also to keep your sleeping quarters dark at night and with the vented cover over your fantastic fan you can run the fan at night in place of the AC and not get wet from the rains. Constant use of the AC will freeze your butt big time!! Don't forget to make your entrance door window black. Don't ask, I have a fan vented cover that allows you to open your fan vent cover now but did not on our trip. No matter what you think it will get hot at times in Alaska. What we did in a pinch was go to auto parts store and buy several silver window covers you put on your windshield. We cut them to fit in each window & secured the top of each cover behind the curtain rod at the top and a piece of aluminum tape on the bottom to hold them in place. They worked great and was quite cheap, and we have them still in place today. Better than having someone looking in your low windows at night with a light on. Give this a test, close the curtains, turn on the inside lights at night and have someone go outside to see if they can see in. Do not be naked testing this out, your physical body dimensions will be visible. This too is only a suggestion. NOTE: also, be sure your back window will not slide open from vibration on your trip, ours did a few times until I figured out what was happening when I felt the cold coming in our window as we slept at night. It almost makes me think that the window is upside down on installation as the devise closes in the upward position?? Get a small screen door latch from lowes to secure the window from sliding open.
12) Be sure you have a screen door on your Scamp camper!!! Alaska and canadian mosquitos are the most viscious I have ever seen and this screen door will have all those Alaskan flying critters all outside looking in just waiting till you go out. Be sure to get the strongest bug repellant you can as well. Use it every night you go outside as this is needed, do not be a hero and think you will not get bit. Oh yea you will, big time and be sure if you insist in not using this bug repelent that you have a medical kit with insect bit pain relief in it as well as all essential emergency treating items in your Medical Emergency Kit!. You will need it. Mosquito bites there last up to 4-5 darn days and really are painful at times..
13) Be sure you disconnect your Scamp power connection from your tow vehicle EVERY night or else expect to find your battery on your tow vehicle DEAD. That is one reason for the portable Battery Charger / Air Pump to have with you. Don't ask how we found out about this too! I am just passing on good advise to consider having, your trip will be long and I hope to be making you better prepared for anything to make your trip less stressful.
14) Be sure if you travel with others, that you all travel the same time and speed and no one gets miles ahead of you in case of problems, emergencies etc. If one of you has to stop, then all of you have to stop in respect, this will help you out many, many times. NO ONE LEFT BEHIND just like a Marine Corp. member.
15) Be extremely careful on many Alaska Roads that will be long areas of gravel as many of the roads are very narrow. If you see oncoming traffic coming, especially a 18 wheeler hauling oil and going like hell. Pull over as carefully as you can without rolling your rig over an embankment and STOP until the traffic coming toward you passes. It almost seems that SOME not all 18 Wheelers like a challenge on Gravel Roads to see how many windshields they can crack with rocks coming off their tires. Being in a stopped position minimizes this action as much as can be expected. Be sure of traffic behind you that may get impatient if you are going slow up a steep grade and you will try to let them by if they flash their lights at you but go real slow or signal you will stop to allow them to pass on gravel roads in particular. We seen a area on a gravel road that a big class "A" was forced off the road while being passed on a rainy day and no road sholder was available, just a drop off and this is frequent as there is (No Shoulders at all at times) and if the road is wet, take at least 200% more cautions.
16) Try not to ever go over 55-60 MPH most times as the road heaves from permafrost come up fast and furious and will scare the hell out of you. NOTE: some road heaves are identified by road crews with a red flag on the right hand side of the road warning you, but sometimes these flags fall over etc. Be sure to have CB radios or good walkie talkies between your travel companions to communicate road conditions and the sight of wild animals for you to enjoy seeing but warned to be careful if they are in road etc. Be sure to install brand new batteries in walkie talkies every morning, you will be real sorry if you do not do this. They seem to go battery dead at the darndest times because you had 1/2 battery life let at the beginning of each day. You will try to cheat because of battery cost, it is not worth it. Some times you will only be able to go 30-40 mph if that on gravel roads, do not get impatient and sometimes you may have to drive over on the left hand land at times to miss a really bad pot hole and there is thousands to watch for. The leader of your party or point vehicle will have a real important job at times. Leave plenty of distance between rigs traveling, no closer than 100-150 feet between you perhaps because of road conditions maybe more but withing communication with all and sight of each other too. Warning = Do not be tempted to use the (Over The Top Of The World Highway) to enter Alaska. This is the worst ever, the narrowest , the steepest ever, coldest to travel ever, least traveled if you experience an emergency, just try not be tempted. Again, this is our experience, and only a friendly warning of caution.
17) There will be very few places to wash your Scamp and your cute little camper will get really dirty on gray gravel roads especially if it is raining. This will drive you crazy perhaps, but another thing to expect. Some gas stations have rv wash with fuel fill up but these are few and far between, you may also have to pay to use it. Expect to be delayed as these facilities are really used by everyone who wants to clean their rigs.
18) Be sure to inspect your hot water tank, refer and *AC, DC, Gas power switches outside access door compartments for gravel, dirt, dust and inspect daily. I cannot stress this enough, I bought a old hand bellows used in the old days to start a wood stove with air and this works great at blowing out the dirt you will accumulate daily. Do this before using each of these accessories at the end of a day, you will be surprised at what dirt you will have accumulated. Also, when you begin to travel each day, be sure all windows to your camper are closed and locked as the dust from the gravel roads gets inside and makes one hell of a mess to open the entrance door and find. (Don't ask). I offered in my other post on SOI bulletin board to give suggestions we had to use on our Alaska trip to control dust getting into your exterior access doors, using Aluminum 2" tape from Lowe's that will sure come in handy. Aluminum tape cost about $19 in alaska and about $6 at Lowe's. You will thank me for this information, especially if you lose one of your entrance access doors. Be sure before leaving each day for a new adventure that all access doors are secured properly. If you lose one of them, (Don't ask) you will not find a replacement on the road at any RV stores and you will need one or something to replace it. An emergency suggestion for this problem is also posted in our SOI information on our Alaska Trip.
19) You will need a government issued idendification document to enter Canada, from both directions, (Passport or passport card), allow 6 weeks for your passport or passport card to be received by you in the mail. Canada border patrol stations do not accept your birth certificate like in the old days any more. You will have to go to a post office in your area (That takes your passport photos and will take all your Id data to send to Virginia I think), (do not try to use your own camera photo), this will surely slow down the passport card process by weeks. This passport card is the cheaper way to go to Alaska, but still pricey for just an ID to me but you gotta have it!!! You need to do this for everyone in your party traveling with you through Canada. Be sure to Google what id is needed by you to make our your application at the post office to get your passport card.
20) Have a special traveling pouch for all your identifications, (Copies of all your credit cards, copy of your birth certificate if needed, I hope not, keep your new passport card in, and just all your legal documents for your animals as well) if you are traveling with any. Remember, if you travel with a dog or dogs they have to have up to date forms made out by the veternerian that they all have their shots and this document has to be made no longer than 30 days before you leave to go to Canada / Alaska. Keep this ID pouch information in the safest place in your tow vehicle so it can be quickly produced when requested by authorities. Bring this pouch to the border patrol bldg. you will be asked to enter before entering Canada if you are told to enter at the border crossing.
Canada border inspection tips:
a) Do not enter border patrol bldg with attitude, be a jokester or wise guy in any way. Answer only those questions you are asked as the border patrol officers are trying to visually profile you by your body language. Just be natural acting but do not be smart assed in any way. Having all your information organized will impress them them that you are educated and ready to give them any information or forms you may need and they will do their best not to make you nervious.
b) Be sure, Be Sure not to have any guns of any kind with you. (Leave your hand guns at home or they will be confiscated or hopefully mailed back to your residence but this is a long day preparation and way more questions than you want to answer). If you own a gun at your home state and a Canada Border guard ask if you own a gun be sure to tell them you do. They may check by computer if you have a permit for it or them if your guns are pistols and it is required in your state to license. DO NOT LIE!! They will also ask you as a first question at the border entrance right out of the blue ("Do you own any guns")? This answer if you lag behind in answering will immediately make them have you pull over to the side for inspection. This is where you will enter the main bldg. and be searched identification wise by computer. Then on their intuition they may search your travel trailer and tow vehicle. Do not refuse this if asked, this too may be a test to see if you want to claim your (RIGHTS) and refuse them access. DO NOT, DO NOT REFUSE IF ASKED TO SEARCH ALL YOUR PROPERTY!! I am trying my hardest to give you tips to prevent you from being profiled in a negative way-terrorist etc. They take this real, real serious with all the worldy crazy crap going on today.
c) Do not enter the border with any fruit and vegetables in your refergerator or any place in your vehicles. If you are searched and you may be, they will confiscate this immediately. They are trying to reduce any imported insects into this beautiful country so purchase your vegetables and fruit in CANADA after entering, (be prepared though the replacement of your fruits and veggies will not be as cheap as in the lower 48 states). Entering into Alaska you will not have this problem but each time before you enter Canada have your fruits and veggies eaten as a precaution. This is no big deal but again if they ask you and they sure might if you have fresh fruit and vegetables be sure not to lie to them, EVER!!
21) Purchase a copy of (MILEPOST) on the internet will probably be the cheapest place to do so. This will assist you mile per mile through Canada and into Alaska with more information than your co-pilot will want to read as you travel. You will find areas to rest and camp at every mile and more information than you can remember. Remember, your GPS may not work correctly here too, the milepost is just a back up. Don't be cheap and go without it. NOTE: if you go to Alaska and take out Tripple AAA towing insurance, you can go to their office in your area and get a full travel Itenary to and from Alaska and back to your place of residence or any place you wish to travel and it will be thorough as well. AND FREE!!! This is only a suggestion.
22) Take thousands of photos but download them daily (as a suggestion) on your laptop and place them in a folder separately for your trip and each stop they were taken at. This will be easier for you to remember all you seen and where, and place dates on the file name as well to better track your direction of Scamping travel.
ADDITIONAL SUGGESTIONS FOR SCAMP TRAVELING AT ALL TIMES TO CONSIDER:
I just sent additional information I am going to post here to one of our Scamp brothers and thought, what to hell, why not include this additional information to my post when you pick up your new camper within the next few weeks. Hope you do not get bored with any of my suggestions, if so just delete my post on your pc. Some of these suggestions may be a little redundant, as they were mentioned above but rather than change my entire post I wanted to just copy and paste here again. Here goes:
23) This may be redundant but very important to consider again. I would request that Scamp assures me that the bearings were properly checked at SCAMP before pickup of the camper by you, if you believe them verbally then so be it. But, ask them what needs to be done to further protect your new camper as far as the bearings. You may use my failure as example, print out photos of my mess etc. to show them. If they say you need to readjust them no matter what( I personally think) after a certain break in time, then set aside time on your trip to stop at a reputable tire shop and pay the $10-20 to have them both rechecked, reseated and regreased. Then be on your way. How many times this needs to be done I am not sure, I just readjusted mine again last week, they were not far off but a little more than I thought they should be. Be sure also that all tires, even the spare is (BALANCED) again no matter what Scamp says, this is your big investment and they should honor your request that these little things be done.
24) I would suggest to reread all my information on our problems of our Scamp, write down important notes to you to have done on your camper before pick up , check that the bottom of your trailer does not have the openings around your waste pipes like mine, if they do, I would insist they install a cover no matter how much they swear by their protective coatings they use! I would send them 3 cans of truck bed spray to spray your camper with truck bed liner underneath on the flooring and framing while they have your camper upside down as they assemble the axle etc. This should not take Scamp more than 10 minutes to do and have them put on two coats and no less, (No matter how wonderful they think their protective covering on the "Wooden" floor is. ONly a suggestion.
25) Be sure to bring a jack and lug wrench to fit the wheels lugs on the camper, even the one on the spare mounting as the lug wrench will not reach down far enough to reach the nut holding on the spare. Must be they got a good deal on over length bolts for this?
26) Be sure that preventitive measures on the part of Scamp were done to (Prevent the entrance Door opening up as you go down the road) after a long length of time),
27) (load wheel bearings and re-fill with grease), ask Scamp when they need re-adjustment per mfg.,
28) Check that the Refer AC control switch will shut off or on, this costs $30 to replace, I just did. I requested a warranty problem was here on this switch but I have two weeks before my next 2,000 mile trip and need this switch replaced NOW!
29) Again request installation of (Low profile) roof air conditioner. Hold your breath on this request. But with more request for this sooner or later it will have to be considered when the number of request increases.
30) be sure Screws around the bathroom door and bottom of sink cabinet are secured with glue or such to keep from backing out each day you use your camper?? Tire un-balance does not make the screws entirely back out, my tires were balanced and they still back out! I Have not explored what to do here but this is annoying new camper. This may be insifnificant to some, not me.
31) consider installing larger diameter (safety chain between the camper and tow vehicle.) The one used on my scamper that has one little ole bolt holding it on the trailer tongue is probably heavy enough to stop a kids (red flyer wagon) if being towed on the interstate. I need to change this as well to satisfy my safety standards. This is Not insignificant to me.
32) Have Scamp install NEW (rubber) entrance door seal (they have in stock) installed in place of the foam one used in the past on our scampers. The old form ones leak at the bottom of the door all the time, they slid over in their groove and half way down the door there is very little sealing if any.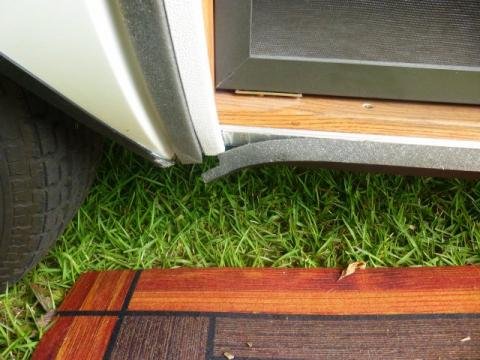 33) Be sure the back sliding window on the camper is securely locked from sliding open. Ours always unlocks and I need to get a locking devise at Lowe's to rectify even this trivial thing. But, if it opens and lets air and water in while traveling you will be unhappy. I believe the window may be in upside down as the locking devise secures in the upward position when locked and it falls down and leaves the window unlocked from vibration very easily??
34) Be sure to purchase and carry a 2" roll of NEW aluminum tape for emergencies you do not forsee at this time and also a small roll of steel wire again for emergencies. Bring a small tool kit with wrenches, pliers, wire cutters, hammer, gloves, safety glasses, road refelectors to install on road in case of break down and you are waiting for a TOW truck for safety to you, your family, camper and tow vehicle. People drive crazy in terrible places like the smokey mountains where there is no pull off room to be safe.
Again, this is additonal information that can be combined to be used on a trip to Alaska or anyplace you want to use our great little eggs. If I have any more thoughts I will include them on this post.
Well I think I have taxed my brain all I can for today. If I think of anything more important for you to consider preparing for you trip I will post here again, I sure wish I could talk you out of driving with your little scamp to Alaska and convince you to fly up to Seattle and take a 5 day cruise. It will cost you maybe $10,000 less to travel by ship than by driving. But maybe not be as memorable as the experiences I just know you will have. Good luck, feel free to ask any questions of me either in SOI bulletin board post or directly by SOI email message.
Garylee