Anyone out there in Scamp land have experience traveling with your dog?
I looked at the web site Bring Fido and that lists hotels and restaurants in varied communities that dogs are welcome, but no camp ground listings.
With a small dog < 13 lbs. I assume you just stop and stay and do not ask questions?
We are very responsible and always have poop bags and clean up and Esmé is very well trained.
She is a good travel companion even in a kyak...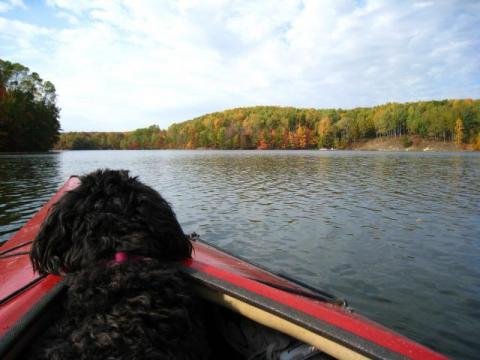 Currently wife is working on Nose Work training. Might be useful for propane leaks at some point?
Esmé has her own Facebook page for training and will also be "blogging" as a Scamper once we have ours.
We are like kids counting down the days to Xmas...hard to wait the reamining weeks until we can pick up our 16 footer.
Once that blog is live I can post a link if anyone is interested.
Wife maintained her jungle blog while we were working a conservation biologists based in Belize, but now after 26 years we are back in the U.S. she closed it.
Not too many jaguars in Michigan ...
http://bzfieldnotes.blogspot.com/2009/12/ocelot-or-margay.html