Event Date:
Monday, February 10, 2014

to

Saturday, February 15, 2014
Event Image: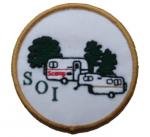 Scamp Camp 2014 - February 10th to 15rd, 2014 (M - Sa).
Plan to join us early for the 16th annual gathering by making your reservation.
Call: 800-326-3521 to make reservations, then email or call Dick and Lynda Freed, the hosts, to report your information.
Even if you have to cancel you won't lose all your money - the park withholds only one day's fee.Freed's email is: richfreed@aol.com - Phone number are: 814-449-9596
Highlands Hammock State Park is located at 5931 Hammock Rd, Sebring , FL 33872.
Come join us for a great experience.